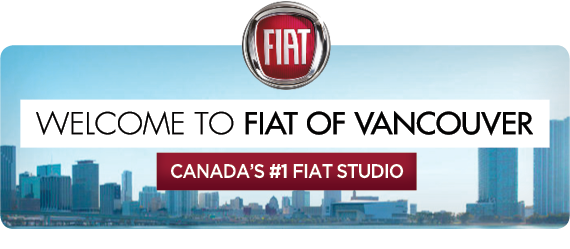 Among The Best New and Used Car Dealerships in Vancouver

At Fiat of Vancouver, your local New and Used Car Dealership in Vancouver, we've got great pricing for our FIAT 500's, FIAT 500c, FIAT 500 Lounge, and along with our excellent selection on the 2018 Fiat 500, we offer best financing rates around. The Fiat 500's great performance and handling makes it the perfect city vehicle! We strongly suggest you come in and give it a test drive to see what all the hype is about. 
With our convenient location at Main Street and Terminal, you have nothing to lose when stopping in to check out our insane deals! We'd be sorry to hear you paid too much somewhere else.


Vancouver's Best FIAT Dealer

Staffed with FIAT specialists and highly trained technicians, we are here to provide a comfortable, fun and worry-free automotive shopping and service experience. With hard-work and dedication to our customers, we have become the Number #1 FIAT studio in Canada. See the difference for yourself. We always have the best FIAT 500 deals around. 
At FIAT of Vancouver we sell more than just new FIAT's, we also sell used cars, used, trucks, used crossovers, used SUV's, and used vehicles of all makes and models. We have a full service automotive department and auto parts department too! If you need vehicle financing our automotive financing department will help you get a loan - if you have bad credit, don't worry, our finance specialists will match you up with the right financing for your budget.
Allow us to demonstrate how our product is superior, how our service meets your needs, and how our commitment to you and your happiness trumps all other dealers. At FIAT of Vancouver we want to place you in the driver's seat to begin the next chapter of your life.